17 mai 2009
Percy Bysshe Shelley, poète anglais
Percy Bysshe Shelley 1792-1822
Percy a eu une vie courte et bien remplie : 30 ans tout juste. Il naît dans cette angleterre romantique de la grande époque, au milieu d'une génération de poètes formidables : Byron, Keats, Southey ... et en devient l'emblême incontournable. Percy Bysshe a une enfance tranquille et aisée, au collège d'Eton ses études révèlent un très bon élève. Mais Percy est aussi beau (les rares images léguées de lui ne le prouvent pas vraiment mais bon), frêle, chétif et extrêmement sensible : c'est un romantique. Dès 16 ans il écrit des romans inspirés des romans gothiques de Radcliff, s'entraîne à la chimie, lit Lucrèce en latin peut-être pour oublier que ses camarades l'appellent "Shelley le fou" ou peut-être pour qu'ils continuent : en s'intéressant à l'occultisme il gagne le nouveau surnom de "Shelley l'athée" ce qui à l'époque n'était pas mignon-mignon.
Shelley aurait pu être ce premier de la classe raillé : lunettes et bretelles sur pantalon en velours, geek de l'époque victorienne : modèle pour le roman de sa future femme Mary Shelley : Frankenstein, mais Percy a autre chose dans le sang : c'est un anticonformiste.
Shelley est amoureux de sa cousine, Harriet Grove, passion jamais consommée mais qui lui inspira de nombreux vers. Ces dans ses années universitaires à Oxford que Percy s'engage dans une vie qui fait de lui le hippie des victoriens. Dès 1811, à 19 ans, il publie un pamphlet : De la nécessité de l'athéisme ou Réfutation du déisme : il y va fort le Bysshe et d'ailleurs les emperruqués d'Oxford n'aiment pas et ils le virent. A partir de là, l'existence de Shelley devient révoltée, il va peu à peu s'éloigner des conventions sociales de l'époque.
A commencer par sa vie amoureuse : il rencontre une gamine de 16 ans Harriet Westbrook et ni une ni deux l'enlève, décolle pour Edimbourg comme dans un roman et l'époouse. Nous sommes toujours en 1811 et il invite son collègue d'Oxford et coauteur du pamphlet : Thomas Hogg. Percy croit à l'amour libre, il propose donc le gîte, le couvert et sa femme à Hogg. La fillette n'est pas vraiment de cet avis. Le couple déménage donc et Percy se consacre à l'écriture. Mais le couple se délite et en 1814 Percy rencontre Mary Goodwin qui deviendra Shelley plus tard : il l'aime et puisque ses tentatives politiques ont échoué (il proposait un mode de vie libertaire, végétarien et communautaire, autant dire que les emperruqués n'ont pas adhéré à ça non plus) il l'enlève elle aussi, un peu. Recherché pour ses idées il court à droite et à gauche du Royaume-Uni et publie un recueil de poèmes : Queen Mab.
Oh! not the visioned poet in his dreams,
When silvery clouds float through the wildered brain,
When every sight of lovely, wild and grand
Astonishes, enraptures, elevates,
When fancy at a glance combines
The wondrous and the beautiful,--
Percy voyage alors et laisse ses amours en Angleterre : la France et la Suisse lui apporte une découverte de la nature qui le marque et en grand romantique il se dit que l'homme et la nature doivent s'entendre. Il retourne malgré tout en Angleterre et retrouve Harriet enceinte, ... et retrouve Mary enceinte : il embarque son petit monde dans la forêt de Windsor rejoint par Byron et sa femme,... enceinte. Au milieu de ces gros bidons il fait du canot, mange de la viande, compose avec ses potes poètes, écoute les femmes jouer de la guitare : une vie en communauté libre. Mais ça se gâte quand Harriet (qui reste sa femme) accouche : papa Shelley, petit baron se fâche tout rouge et rapatrié Harriet et le bébé. Percy embarque de nouveau Mary et la maîtresse de Byron en Suisse cette fois. Nous sommes en 1815 : la plus belle période de la vie de Shelley. Ca ne dure pas : Harriet laissée à Londres se noie enceinte : suicide ? Shelley est loin et en profite du coup pour épouser Mary Goodwin. Clara, la nana de Byron est toujours là. C'est dans ces circonstances qu'il écrit La révolte de l'Islam son chef d'oeuvre pour beaucoup.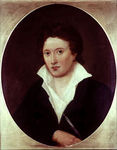 Comme il est interdit de séjour désormais en Angleterre il s'installe pour finir en Italie, rejoint Byron, lui rend femme et enfant, et fait un peu de tourisme. C'est un moment de grande création : il publie notamment Prométhée délivré et L'ode au vent d'ouest (vers 1818) :
Toi qui dans le déchirement du ciel vertical, emportes
comme les feuilles pourries de la terre les nuages défaits
Arrachées aux branches mêlées du Ciel et de l'Océan. lire la suite ici.
En 1821 Keats meure, Shelley compose Adonaïs et s'installe enfin avec Mary : il est pris d'une folie créatrice et intellectuelle. Il traduit, il écrit, il aide Mary pour son Frankenstein et papillone aussi. En 1822 il décide de naviguer et construit un voilier avec un pote, fondu de Shakespeare il l'appelle Ariel : du nom de l'esprit forcé de servir Prospero dans La Tempête. Ils partent un jour d'été mais deux heures après ils font naufrage, pris dans une tempête et leurs corps sont rejetés sur la plage dix jours après : vie romanesque et mort romanesque, incarnation du Romantisme par sa vie et ses idéaux, Percy Bysshe Shelley reste la référence du romantisme anglais par une oeuvre variée (tous les genres) et des idées étrangement modernes. Marx l'aimait beaucoup.
Son corps est brûlé sur la plage et ses cendres reposent à Rome.
"Pour l'amour et la beauté et le bonheur il n'y a ni mort ni changement.»
Mary et Percy : monument de Weekes
Commentaires
Poster un commentaire